Disgrace
Watch the Movie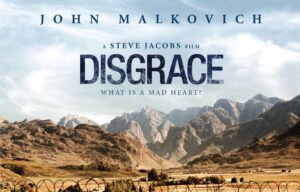 Disgrace may be his (Jacobs) masterpiece … it will haunt me for a long time.
Disgrace is based on J.M. Coetzee's 1999 Booker prize-winning novel of the same name. The novel, set in post-apartheid South Africa, struck a chord around the world as a powerful work dealing with complex characters, emotions and sexual encounters.
The film is a faithful adaptation of the novel, portraying the beauty and power of the natural world as it reveals the moral complexities of people's lives in a country where the balance of power is shifting in both the private and public sphere.
Disgrace tells the story of one man's downfall to reflect wider issues in a society. The production team, including the screenwriter, Anna-Maria Monticelli, director Steve Jacobs, cinematographer Steve Arnold and a uniformly strong cast led by John Malkovich as David Lurie have created a film that is exceptional in its fidelity to the text and refusal to offer simple moral perspectives.